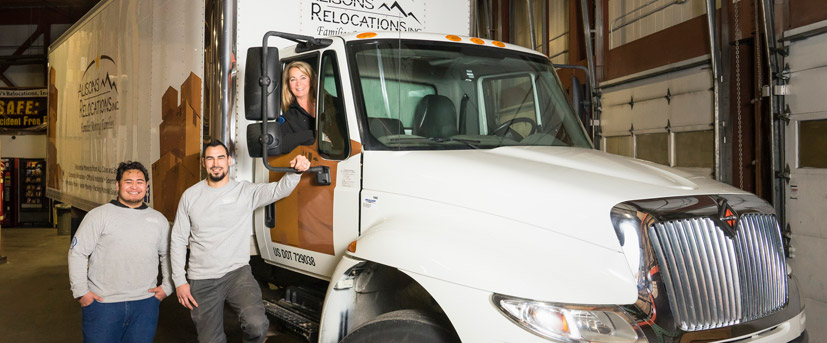 Want to maintain control over your own packing, but still need help with your move? Our popular Self Move service or Do It Yourself service may be the answer, particularly if you are relocating out of or into the state of Alaska.
Moving out of Alaska brings challenges that are a bit different than those in the Lower 48, especially when you need to move a vehicle. You either ship it with a car carrier (leaving it open to the elements), or drive thousands of miles along the picturesque, but long, Alcan Highway.
Our self-move services give you the option of moving household goods, and a vehicle too, in one convenient container.
How a Self Move works
We will survey your belongings to help you estimate the necessary container size (either 20, 40, 45, 53 foot or other variances are available). Then we deliver the empty container to your home. You're in charge of packing (we've got boxes too), and you will have up to seven days to load up your belongings. We pick up the container and bring it to our facility in Anchorage. If you are moving a vehicle, we will ensure your belongs are professionally bulkheaded and then we will block and brace your vehicle. Then we seal and secure the container for shipment to its final destination, the container will be delivered to any address throughout any state in the Lower 48 and brought right to your door where you will unpack it into your new home. You take the vehicle off with a slide back tow truck.
When you need extra help
Traditionally, friends and family can be a great help when it comes to a move. But if you don't have the muscle to wrestle furniture or other heavy items into the container, our Loadmaster service can literally take the weight off! One of our Certified Professional Movers will assist you in loading the shipping container properly, ensuring that your household goods are loaded "high and tight" so minimal or no shifting occurs.
When you need extra time
Perhaps you haven't found the right home yet in your new community. Or maybe you do want to spend a few months on the road sightseeing or visiting family and friends. In that case, we have 20- or 40-foot moving containers that serve as a convenient storage solution. We can keep it at our secure storage location until you are ready to have it shipped to you.
Self Move works with small amounts, too
If you're in a one-bedroom, you won't have enough belongings to warrant an entire shipping container. However, you can still take advantage of all the benefits of a self-move by using just part of a container. You will Dzco-owndz the container, sharing the space and the cost. We will build a security wall with security seals around your belongings to ensure that they are undisturbed after loading.
Benefits of Self Move
Perfect mix of do-it-yourself with assurance of professional services – From our initial survey to final delivery, you'll benefit from our years of professional moving expertise while keeping your out-of-pocket costs lower by packing and loading yourself.
Convenience of an on-site container – Pack it up over a few days, or all in one shot. No worries about pick-up or drop-off.
Peace of mind – Your belongings will be secured and transported with care by professional movers. You won't have to think about it again until you're unloading them into your new home.
Maximize your schedule, and minimize your road miles – If we're hauling your belongings and your car or truck, you have the freedom to fly out of Alaska on your timetable without worrying about a long drive that will put thousands of road miles on your vehicle. If you're thinking about a Self Move, call us today for an estimate. We'd be happy to discuss your situation and advise you on options.